I've won the first USCF
Walter E. Muir E-Quad
I have entered with a score of 6-0. This is my first event win outside of ICC in correspondence chess. FM Alex Dunne emailed me this certificate: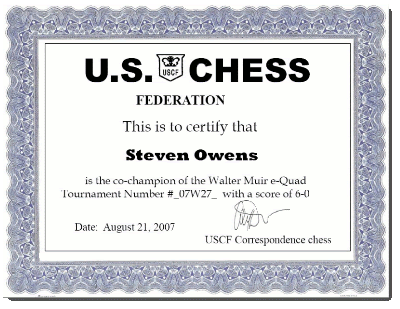 There are still other games to go. Once they are finished the participants will be able to publish them. FM Dunne sent the following message along with the certificate:
Hi, Steven !
Congratulations on winning first place in the 2007 Walter Muir section 07W27. Your score of 6-0 was an excellent one. To commemorate your win of this webserver tournament, a certificate is attached. We hope you have enjoyed your games. If there were any games you think of exceptional quality, please send them for possible publication to "The Check Is in the Mail" at chesskinetics@stny.rr.com
Pax, Alex Dunne
USCF CC Director
Latest results from 8/21/2007 are displayed in red.
Over at
ICCF
, I have one game still going in WS/O/109. Mrs. Karola Kaspschak has nine reflection days left in this time control and has not moved since 28 July 2007. I am White in a Slav and am a complete Rook up after White's twenty-second move. I anticipate four points in this event which assures a top four finish and retains faint hopes for an event win, though Pötz has an advantage of a win in our game and I drew with Kýhos.
X
D
= result by default
X
F
= FIDE Elo
X
P
= provisional
Latest results from 8/19/2007 are displayed in red.
WS/O/120 and WS/O/138 have had no notable changes since the last update.
I've started a new event on
ICC
, 2007Quad08.
2007Quad.08 Rating 1 2 3 4
The7thGuest 2065 X X
sdo1 1956 X X
Boromir 1812 X X
Molton 1800 X X