Santana
Santa "Claus" Moss was wearing the wrong uniform again Sunday. The Skins were up 14-10 and the defense, other than one big play, had completely stifled the NFL's leading passer for the second straight week. Santa Moss had also continued to afflict the Skins with his dropsies, so the Skins thought they would let him try to run the ball without the nuisance of actually having to catch it.
Imagine that, a wide receiver not having to receive the ball...
There he goes, blockers in front and on the way!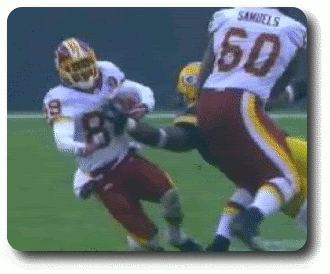 Oops, Santa Moss decides that protecting the ball is not in his job description, just like that arcane idea of wide receivers catching the ball.
And that is Charles Woodson strolling untouched in to the end zone with the ball you so graciously placed on the grass for him.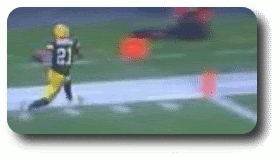 Great Teamwork, Santa! You are the Packers' MVP this week.
You deserve it! You took a 14-10 victory away from the Skins and were the key player in the 17-10 Packer win!