Despite the victory, despite Shaun Suisham's return to form, despite Clinton Portis finding room to run against what may be the weakest run defense in the NFL...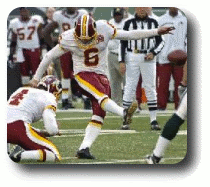 Redskin Fans have plenty to worry about after the Skins' 23-20 win against the stumbling Jets in New Jersey.
The defense demonstrated that blitzing is not something to be set aside and later picked up when desired. While it is nice that Gregg Williams put the blitz back in the arsenal, it will likely take a game or two to get back in synch. The CBs are again playing too far off the receivers. Kellen Clemens had a decent day taking what the Skins' D gave him, and despite being sacked a few times, was very efficient on third down. A top defense should not have allowed a QB making his second start that kind of production, especially as Leavingus Coles couldn't play. Clemens made more of an impact with his depleted line and skill players than Campbell did with his depleted line and skill players, and Campbell wasn't facing a top defense. Has anyone else noticed that two of the three worst teams in the NFL, with a combined record of 1-16, have taken the Skins to over time?
One of the bright spots so far this year has been the play of our first round draft pick, LaRon Landry. Landry and the 49ers' Patrick Willis are hands down the best rookie defenders this year.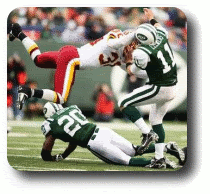 I initially
wanted Willis
after seeing him play against Auburn, but I was
VERY pleased
with Landry when the Skins grabbed him. Of the other "can't miss" defensive draft prospects, Adams got his first start for the Bucs last week, Anderson has been starting all year for the Falcons but has disappointed, and Okoye started strong but has fallen behind Willis and Landry of late.