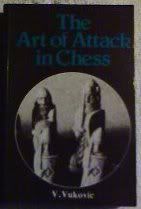 (
Hat tip to DG at Boylston Chess Club Weblog
)
TakChess
is trying a
novel approach
to studying Vokovic's classic
The Art of Attack in Chess
.
"

I recently read SamuraiPawn's blog and about his fascination with the Art of Attack in Chess by Vladmir Vukovic . He convinced me to spend some time on it. I am have sampled it various times during the past year but have not read it with any consistency. I now intend to read it straight through, take notes on this blog and slowly study the games. I invite anyone who wants to join me to follow along and add any notes you care to in the Comment Section. (feel free to do this even if it is weeks, months or years after this initial blog was posted)

"
I'll be following along with my copy, an ancient edition with Descriptive notation from Pergamon. TakChess is using a newer edition from Everyman that, "
translated the games to Algebraic Notation, added more diagrams, checked the analysis, added footnotes and polished the language.
" TakChess' copy has a publication date of 1998, mine is a reprint from 1988. My even older edition from, as I recall, sometime in the 70's fell apart long ago and has been lost.