So much for plans. I had intended to kick this off with a run down of the roster and what needed to be done for the Skins to take the next step in 2008 toward the Lombardi Trophy. Then Head Coach and Team President Joe Gibbs states that he is done.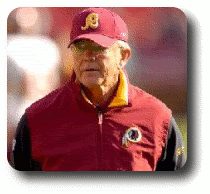 I can't blame him. Gibbs is 67 and coming off a nightmare of a season where his best player and team favorite was murdered, the right side of his offensive line sustained catastrophic injuries, his coming of age quarterback went down, the future at corner and linebacker both sustained season and career threatening knee injuries... In addition to his age, Gibbs has diabetes. His grandson is battling cancer.
Stepping down now looks like it was inevitable. Gibbs goes out with another miracle December and the franchise seemingly primed for much better things. We can forget about the first twelve games of this season. By leaving now, Gibbs goes out with that fantastic four game stretch and the way Gibbs and the staff recaptured past glory.
Against the Bears, Vikings, Giants, and Cowboys I saw a coach that I hadn't seen since 1992. Gibbs and his staff completely out-coached all four teams. Even against the Seahawks Gibbs had the Skins prepared and kept them in the game with a great chance to win until the Sellers/Collins meltdown and ensuing Suisham miss. That the Seahawks had better talent in the trenches was glaring. That the Redskins' offense was struggling with crowd noise obvious. Yet Gibbs and staff had the Skins up 14-13 and in place to add seven points in the fourth quarter.
That was masterful. They just didn't have enough players to pull off a fifth miracle.
The genius was back.
But, how much did it cost to the health of a 67 year old man? How much would it cost to duplicate the effort at age 68? If it cost one minute, one second, it is too much. This die hard Redskin fan wouldn't want that sacrifice from a man I have considered a hero for twenty five years.
Thank you, Coach Gibbs. You gave us much more than any fans deserve, and we adore you for it.